Suspense associated with Spencer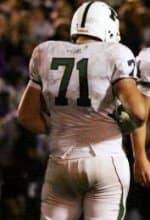 Tuesday was a long day for Joseph Spencer. After his high school, Mason High, let out he traveled down I-71 towards a familiar destination.
The University of Cincinnati.
"I actually went down there today," said Spencer. "I met with Coach Jones and talked with Coach Mahoney."
After all the assistant coaches returned from their exhausting recruiting trips they sat down with Coach Jones and discussed their favorite players.
The formal discussions helped give the recruiting board some clarity. Spencer was told that he was very high on their board and his talent justified a UC offer.
"When they offered I was pretty excited," said Spencer. "It was that hometown team and that team you grew up watching. It is a great offer to get."
Offensive line Coach Don Mahoney is very excited about the opportunity to coach Spencer and he will actually get the opportunity in a matter of days.
Spencer will camp with the Bearcats amongst other teams.
"Getting in with Coach Mahoney is important and working one-on-one at camp this summer," said Spencer. "This summer will be big for me as I go around camping."
The Mason, Ohio resident wants to camp with Virginia Tech, Northwestern, Cincinnati, Illinois, and Ohio State.
UC will host Spencer June 19th. It will be one of his last camp dates. Though it is subject to change Spencer anticipated a July decision.
He is certainly a very organized, savvy young man who plans to collect all of the information before making a rash decision. Don't expect him to leap at any offer.
Cincinnati does hold a special place in his heart though, dating back to his childhood.
"I used to go a couple of games," said Spencer. "In middle school when I moved here I went down there on Saturdays. My dad was a bit of a UC fan as a kid."
Spencer moved to the area from Michigan. He grew up in Kalamazoo, Michigan.
"I liked it there," said Spencer. "Moving wasn't that bad though because I was in fifth grade."
Spencer reports that UC likes his potential at either center or guard. He doesn't really care which right now. Getting the offer has him smiling ear to ear.
"I felt like an offer was eventually going to happen," reflected Spencer. "They kept saying be patient, be patient. I trusted them and what they were saying. I have a good connection with the coaching staff. I was definitely pumped when they pulled the trigger."