Safety gets news of UC offer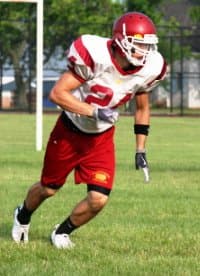 Friday was the culmination of a great camp outing for Vince Hunsicker. Awaiting him in the mail box was his first BCS offer from Cincinnati.
"They wrote me a letter that they have a scholarship offer with my name on it," said Hunsicker. "I still have to call to get all details."
Since fall 2010 Cincinnati has been observing, evaluating, and contacting
Vince Hunsicker
. After a strong camp performance earlier in the week the "Hunsicker Proxy" gathered and mailed out the aforementioned correspondence.
Yes, that was a nearly 20-year old movie reference. Deal with it.
Perfectly willing to display his physical gifts to any coach willing to watch Hunsicker has traveled the entire Midwest dominating camps along the way.
His travel schedule does not let up either.
"I head to Michigan State next week and Northwestern next month," said Hunsicker. "I will be flying out to visit some Ivy League schools at the end of June."
He intends to see Brown, Yale, Dartmouth, and non-Ivy Holy Cross personally. While maintaining his imposing physique Hunsiker always manages to keep his grades high.
Otherwise the Ivy's would obviously not be a viable option.
"I have a 3.65 but I have taken all honors classes," said Hunsicker.
Other schools likely to compete for Hunsicker's Signing Day signature are Michigan State, Purdue, and Northwestern.
Keep an eye on the Wildcats especially.
"They are one of my favorites," said Hunsicker.
Keeping UC very much in the game are its coaches and campus. Hunsicker left Clifton deeply impressed with both.
"Campus is beautiful," said Hunsicker. "It is a lot nicer than I would have expected. Coaches are very up-tempo, upbeat which I really like."
Hunsicker worked primarily with Associate Head Coach Kerry Coombs, who also doubles as the lead recruiter for Hunsicker.
"He watched over the one-on-ones the whole time," said Hunsicker. "Coach Coombs is a top notch coach. He would keep me focused, keep me driven."
Cincinnati has already landed four verbal commitments from Indiana and boasts three DB pledges. If they are able to convince Hunsicker to the cause he would add one to both figures.
Many miles of driving and flying reside between this offer and Hunsicker's ultimate decision though. Hunsicker did not join a Summer Book Club. For him the seasonal goal is simple.
"Keep bringing in as many offers as possible, the biggest schools possible."