Getting the Gentle Giant to Gloat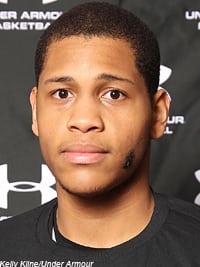 With a perpetual furrow in his brow, massive biceps, and the letters "Q" and "M" tattooed on opposing calves
Quadri Moore
could be the most intimidating junior in the nation.
Until you talk to him.
The 240-pound power forward speaks softly. He talks about his exploits as if he is ashamed to admit how great he is. And Quadri never brags. Never.
Unless you make him. Asked to brag about his talents Quadri rattled off a single sentence.
"Really just shooting," said Moore. "Really good when I get somebody in the air with one dribble and pull up."
How come everybody in New Jersey tells you how great they are, but one of the greatest junior ballers in the state won't say twenty words about his blatant talents?
"I don't know," said Moore. "I guess I don't think like that. I am a really humble person."
Quadri believes he gets that trait from his grandfather.
So timid and mild-mannered Moore can be confused for a harmless guy. A nice guy even.
This is the
Quadri Moore
opponents don't get a chance to know. They are constantly battered by his hind end on the drop step. His defender suffers repeated shoulders to the chest. And anyone brave enough to stand between Moore and a rebound endures a violent pounding.
Attacking Quadri
In the nightcap Thursday Quadri was pitted against 6'11" center Daniel Robinson of Norfolk, Virginia.
The big man from Linden, New Jersey held his own in the paint. He doesn't do well closing out on three-point shooters. They easily exploit his big man foot speed. The powerful power forward defends better around the paint.
Moore blocked three shots against Robinson's team, many the result of help defense.
Robinson finished with six points, four personal fouls. Yes, Quadri forced almost all of those fouls. Better yet Moore knocked down all four of his ensuing free throw attempts.
Defending Quadri a quandry
Offensively, Moore can step out. He likes to shoot from the corner. If he finds a college team with high-low action he might get some shots out high. For now he will have to flair to the corner and hope for the pass.
Most guards see someone his size floating to the arc and instinctively look him off. This is a mistake with Moore. He has a feathery soft touch and high release. He doesn't shoot like fellow superstar
Karl Towns
but he can drop some buckets.
Moore gets most of his points from classic moves. He loves the drop step. Once a defender gets caught on his hip the curtains come out. Game over. Nobody can stand their ground against a wheeling Quadri Moore.
The young man is just too big, too strong.
Unlike many low post stars Quadri converts his free throws. Someone somewhere along the line passed along the wisdom. Free throws are important and Quadri's destiny will include tons of FT attempts.
To only convert 50% of them would be a shame. Moore probably shoots close to 80% from the foul line now. Imagine how refined his shooting touch could become by his freshman year of college (2014-2015).
Halfway through high school Moore has a few admirers.
"Kids around my town look up to me, maybe because I am tall," said Moore. "They are attracted to me (because I'm tall) but when they come to my games they see it. When I tell them I play basketball then they come to the games."
You are going to hear plenty about how good Quadri Moore is in the coming years. Just don't try to get Quadri to say it.