Eastmoor lineman feels no urgency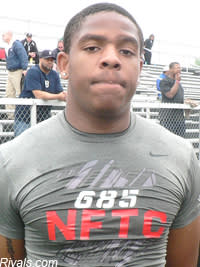 For
Devon Edwards
, right now college football carries substantially less weight than high school. Instead of taking the customary July campus visits Edwards intends to focus on the upcoming fall.
"No visits in July," said Edwards. "I am getting ready for my senior year."
During his final year of high school Edwards wants to get his Columbus Eastmoor Warriors deeper into the playoffs. Last fall Elida knocked Eastmoor out 30-10 in Round 3 of the state playoffs. The Warriors of Eastmoor needed to dethrone Elida to advance to the semifinals.
The team finished 10-3 with a few nice wins. Still Edwards has bigger dreams. With just 12.67 points per game in the playoffs Edwards and his boys need to advance a more dynamic attack in 2012.
Eastmoor alumni include Isaiah Pead, Justin Valentine, Prince Moody, Dionte Johnson, Trumaine Banks, and Ron Tanner.
Tanner was a Bearcat target who selected Ohio State nearly two years ago to the date. It was July 2nd when then senior-to-be Ron Tanner ended his recruitment.
"We talk about it," said
Devon Edwards
. "He just tells me to stay humble and weigh your options out. Don't make a commitment to early. Don't choose a team too early."
Based on a recent conversation it appears Edwards has taken this advice to heart. He continues to prepare heartily for the 2012 Eastmoor season while shoving college recruitment to the subconscious.
"I am not sure yet," said Edwards. "I am going to wait it out. I have to talk with my mom and my dad to see what schools are the best fit for me."
Advising Devon are his mother, coach, and father. Together they will be guiding his recruiting process as it moves forward.
American colors of red, white, and blue adorn the Eastmoor Warrior jerseys. Will Edwards be that All-American talent that every football recruiter wants? He could play either defensive end or tight end at the college level.
Cincinnati began their Class of 2013 with respected tight end A.J. Branisel.
According to Edwards college football was always a plausible outcome.
"Since little league I knew I could play college football," said Edwards. "Size wise I was bigger than everyone else in little league. I was TE/DE. Most teams are recruiting me at both."
Just don't look for a decision soon.