Instant Analysis: UC 70 Memphis 60
ORLANDO- Fla. – Cincinnati opened the second half with a 21-2 run, keyed by stifling defense, and the Bearcats rallied from a 13-point halftime deficit to defeat fifth-seeded Memphis 70-60 in the semifinals of the Aaron's American Athletic Conference Championship on Saturday afternoon.
Three Bearcats scored in double figures led by Jarron Cumberland (18), Gary Clark (17 points and 12 rebounds) and Kyle Washington 11 points.
Memphis Freshman Jamal Johnson had 17 points, all in the first half, and Kyvon Davenport added a double-double of 12 points and 11 rebounds. The Tigers lost Jimario Rivers before the first media timeout due to a head and back injury.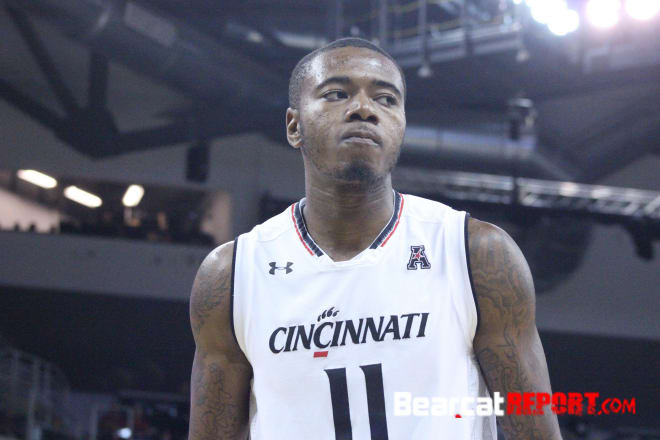 BearcatReport.com was at the game and here is our Instant Analysis:
IT WAS OVER WHEN: Memphis guard Jamal Johnson, who was 5-of-5 from the field in the first half, missed a jumper with 1:38 to play and Memphis trailing 67-58. The Tigers struggled to make shots or score at the basket in the second half and when Johnson's shot rimmed out, the Tigers looked completely deflated.
HE STOLE THE SHOW: In addition to his double-double, Clark also had three assists, three steals and a block. The conference player of the year and defensive player of the year made plays in the second half when the Bearcats needed a spark.
THE STAT DOESN'T LIE: The Bearcats held the Tigers to just 18.5 percent shooting from the field in the second half. Cincinnati limited Memphis to scant open looks and grabbed 15 defensive rebounds off of 22 missed field goals after halftime.
THE BOTTOM LINE: Cincinnati advances to the finals of the AAC Championship, which is where we expected them to be. They started off slowly for the second game in a row but turned up the defensive intensity when it needed to in the second half.